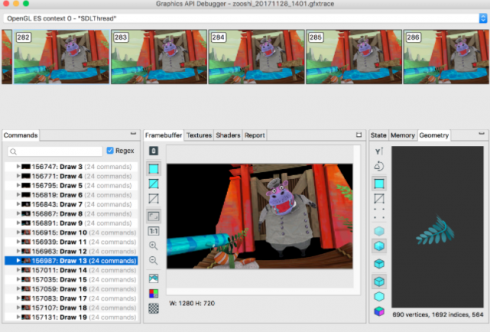 Google has released a new tool called GAPID, which stands for Graphics API Debugger. The tool will be able to help developers diagnose both rendering and performance issues within their applications. It enables them to go through each graphics command one by one to visualize how the final image is built and pick out problematic calls. This results in less time spent doing trial-and-error debugging, according to Google. 
"Developing for 3D is complicated. Whether you're using a native graphics API or enlisting the help of your favorite game engine, there are thousands of graphics commands that have to come together perfectly to produce beautiful 3D images on your phone, desktop or VR headsets," Andrew Woloszyn, software engineer for Google, wrote in a post.
InfluxData becomes a member of the Eclipse Foundation
InfluxData has announced it is now a member of the Eclipse Foundation and the Eclipse IoT Working Group. Many Eclipse products already use InfluxDB as their datastore, so this move will allow InfluxData to make those products even better, according to the company.
"The Eclipse Foundation is excited to have InfluxData joining, and agreeing to participate in the IoT Working Group," said Mike Milinkovich, executive director of the Eclipse Foundation. "Many of the IoT projects rely on InfluxDB already, so having InfluxData as a member and direct participant in these efforts will only enhance the overall adoption of Eclipse IoT projects."
RAD Studio 10.2.2 is released
Embarcadero has released version 10.2.2 for RAD Studio, Delphi, and C++Builder, offering improved ease of use for those tools. Features include an extensive repository of components and code, a code source that natively compiles across platforms, out-of-the-box VCL Windows GUI controls, FireMonkey QuickEdit capabilities, and more.
StreamSets Control Hub is now available
StreamSets has announced the availability of the StreamSets Control Hub, which adds DevOps to data movement architectures. It addresses the challenges of a trend towards time-sensitive data movement that requires analytics to be performed at every step in the process. New features include a hosted dataflow designer, automated deployment and execution of dataflows via Kubernetes, and more.
"We have seen our Fortune 500 customers incur substantial effort and pain as they hand-craft solutions that operationalize their StreamSets dataflow architectures, scaling to hundreds of thousands of pipelines in scope," said Girish Pancha, CEO of StreamSets. "An operational mindset across the lifecycle is required for modern analytic applications to succeed. We built StreamSets Control Hub to provide a focal point for dataflow management so that businesses can accelerate time to value for their data-driven applications."