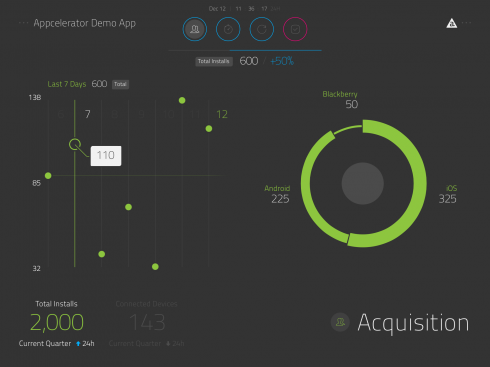 Are we entering a post-Web world, where browsers are becoming less relevant and mobile applications take center stage for getting data to users in a format they can use?
Mobile platform provider Appcelerator thinks so, and today issued the summer release of its platform with optimizations for business analytics, a new API builder, and greater openness and flexibility, according to company CEO and cofounder Jeff Haynie.
(Related: Appcelerator begins to build a mobile ALM platform)
"In the post-Web world, architectures are changing," he said. "It used to be that enterprises controlled 100% of everything, from the desktop browser to the app server and middleware on the back end. It was machine-to-machine oriented and optimized data for delivery to the Web browser.
"Today, one enterprise won't own Salesforce or Facebook or Twitter," he continued. "Increasingly, employees are working on their own devices, not devices provided by the company. And it's in their watch, their smartphone, their car, their tablet, their television. That means massive scale to many devices. The world is moving at the speed of mobile."
These changes probably affect IT departments the hardest, and Haynie could sympathize. "The poor IT department. It's used to working on five-year implementations of SAP before anyone could even use it, and now faces changes" much more frequently.
To bring its platform more aligned with the current state of things, Haynie said the company is announcing the 2.0 version of its Insights metrics platform within the summer release. This version allows organizations to define their own metrics and business objectives and map them into the software, he explained.
Insights, which first shipped last year, is a tablet-based application that helps organizations understand how they are meeting their business objectives. "You can set it up as an idea funnel to see how people are moving through it and to see what the blocks are," Haynie said. "You couldn't represent funnels in an executive dashboard view" in the earlier version. With this new version, organizations can also control who sees which metrics, based on role or privileges within the group.
Also part of the summer platform release, Appcelerator announced its new API Builder, designed to help developers rapidly connect data with their mobile apps. "You can map data sources out of the box to the device through connectors, and can even do data transformations and joins," Haynie noted.
He went on to say that a platform company today must be open and accessible, so Appcelerator is announcing a native SDK for writing software that enables users to get the benefits of the platform analytics and back end even if they are not using Appcelerator tools. In the past, he said, users had to use Appcelerator's Titanium to get the back-end benefits.
Finally, the company today is introducing a private cloud platform to go along with its extant multi-tenant public cloud and its virtual, single-tenant private cloud. "In heavily regulated sectors, this becomes important," said Haynie. "They can run this private cloud in their own data center, or in a third-party cloud, such as Rackspace or Amazon."
To learn more, visit appcelerator.com.