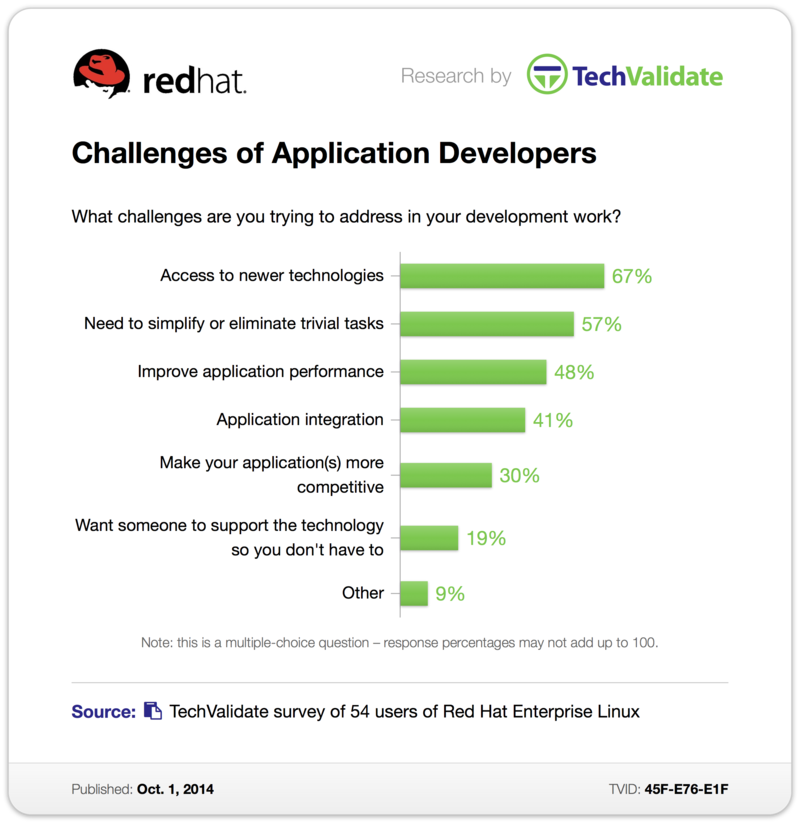 More than half of Red Hat Enterprise Linux (RHEL) developers responding to a recent survey indicated they have no plans to develop Internet of Things applications this year. This was among the findings from an application development survey from TechValidate.
The report surveyed 3,170 RHEL customers regarding operating systems, workloads, mobile development skills, containers, the cloud, Internet of Things, application development challenges and more. The most prevalent application development challenge polled was access to new technologies at 67%, followed by the need to eliminate trivial tasks at 57% and the need to improve application performance at 48%. (As that survey question was multiple-choice, percentages add up to more than 100.)
In terms of the workloads developers are currently running on RHEL, Web application and Web infrastructure, IT infrastructure and open-source relational databases were most prevalent. A more detailed breakdown of popular RHEL workloads is available below:
As for one of the hottest emerging technologies—containers—the survey showed Linux as by far the most popular container platform at 96%, with 12% of organizations planning to deploy containers in production within three to six months; 20% within six to 12 months; 26% in 12 to 24 months; and 33% with no plans to deploy. The report also surveyed developers on the biggest challenges to container adoption, available in the chart below:
Internet of Things application deployment is similarly staggered toward longer-term adoption, with 23% of developers only "exploring" the platform, and 53% with no plans to develop for IoT in 2015.
The report also polled developers on the most in-demand mobile skills and hiring trends, with back-end integration ranking as the most popular trend at 30% of respondents, followed by front-end development at 28% and UI/UX design at 20%. A more detailed chart breaking down mobile skills, including DevOps and wearables, is available below:
For more of the report's findings including a breakdown of cloud computing initiatives, back-end mobile app integrations and OS deployments, the full selection of charts in the report is available here.