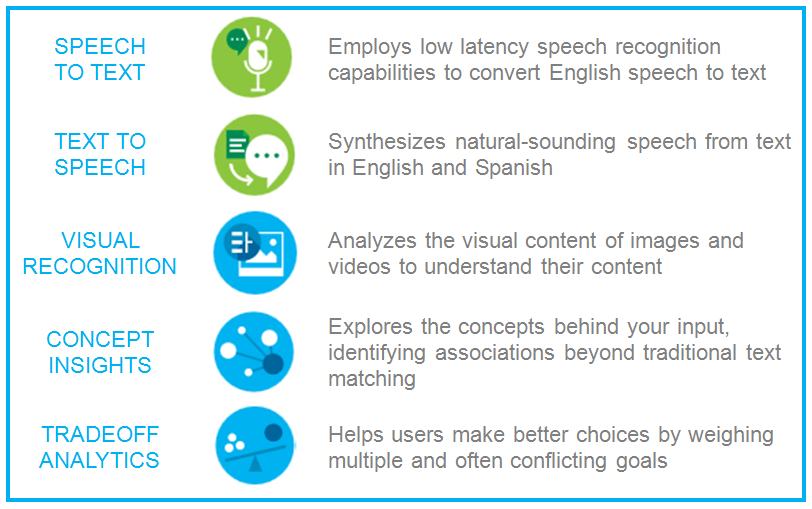 IBM has added five new beta services to its Watson Developer Cloud, a cognitive computing platform that has a collection of APIs and SDKs for developers to build applications integrated with the processing capabilities of IBM's Watson artificial intelligence.
Building upon eight existing services, the Watson Developer Cloud's five new services include speech-to-text translation, text-to-speech translation, visual recognition, concept insights, and tradeoff analytics. A more detailed breakdown is shown in the IBM infographic above.
More information is available in this IBM blog post.
Microsoft rewards HP with $125,000 bug bounty
HP security researchers have been awarded US$125,000 from the Microsoft Mitigation Bypass Bounty and BlueHat Bonus for Defense. To win the bounty, HP's Zero Day Initiative team had to outline steps and procedures to exploit a bug found in Microsoft's latest version of Internet Explorer.
As employees of HP, the researchers won't be keeping the cash; instead each member was allowed to choose a charity that HP will donate a portion of the reward to. They selected organizations that focus on STEM education, so Texas A&M University, Concordia University and Khan Academy will each receive a third of the bounty.
More information is available here.
New job-search website for developers
A new website wants to make it easier for developers to find jobs. Beansprock, launched by former Michigan Institute of Technology students Cameron Levy and Dustin Smith, uses machine learning to find jobs based on an IT professional's skills. In addition, the website identifies new skills developers might be interested in learning, salary expectations, commute time and company preferences.
"While building Beansprock, we asked hundreds of developers, what do you want to know most about a job? Perhaps unsurprisingly, many of the responses were for things not even found on a typical job posting. Beansprock augments every posting with a richer understanding of that job," according to the website.