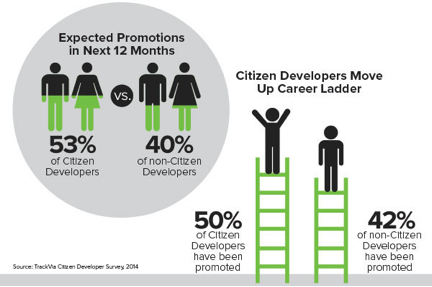 The Citizen Developers are taking over. A growing, highly motivated class of enterprise workers is using BYOD technology to build homegrown software that bypasses the traditional IT process, changing the way organizations operate.
Analyst firm Gartner defined a Citizen Developer as "a user who creates new business applications for consumption by [other employees within the company] by using development and runtime environments sanctioned by corporate IT." Also know as a business user or a "power user," Citizen Developers are making use of advancements in development platforms and cloud computing services to broaden the end-user application development cycle.
(Related: BYOD and mobile app development)
A new report from enterprise application platform TrackVia showed that this younger generation of Citizen Developers is reshaping business software as they rise up company ranks on the strength of their customized enterprise solutions. The report, "The next generation worker: The Citizen Developer," anonymously surveyed 1,000 enterprise workers from various industries on factors such as age range, confidence level, promotion rate, and BYOD and communication preferences. The research indicated that the role of Citizen Developers is expanding as they increase productivity with flexible enterprise applications.
"A Citizen Developer is someone who has grown up with technology their whole life," said Pete Khanna, CEO of TrackVia. "These Citizen Developers are doers; they're the ambitious type within the organization that'll say, 'I know how to run my department better than anyone else. Why can't I just build the technology to do it for me as well?' They're of the younger generation, and they're not going to settle for something off the shelf that doesn't do what they want it to do."
According to the report, 50% of Citizen Developers aged 18-29—the millennial generation—develop their own enterprise apps, compared to 47% of Citizen Developers aged 30-44 and 43% aged 45-60. Khanna believed the permeation of technology in daily life has led to dramatically higher software literacy than ever before. Combined with the progression of development platforms and cloud-based PaaSes built by developers, the software-literate mindset has created opportunities for this wave of Citizen Developers to advance within organizations.
"The thing about citizen developers is that they've been propelled forward by the software developers building easy-to-use tools for them," Khanna said. "The mentality may be the same but there are far more of these people in organizations now. They know because of their software literacy that it isn't hard. They can get data in through simple imports, they can manipulate the fields, records and reporting, and these are all through drag-and-drop technologies. They do it every day in their personal lives; they're the Facebook generation, the Instagram generation."
As part of this shift, the role of IT is transitioning from the driver of a business' technology efforts to a service organization. Rather than building business applications and going through a back-and-forth of prototypes and tweaks, Citizen Developers are streamlining the process. Sixty-three percent of Citizen Developers find solutions outside of IT, compared to 39% of non-citizen developers, according to the report.