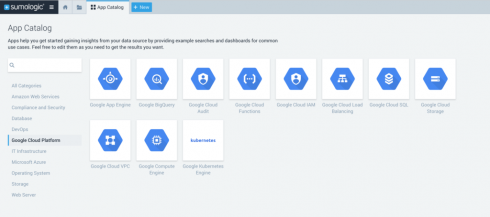 Sumo Logic is unveiling the release of 11 Google Cloud Platform applications and new integrations with the open-source machine learning library TensorFlow ahead of the Google Cloud Next 2018 conference in San Francisco tomorrow. The integrations are designed to provide business, operational and security insights with today's modern apps and infrastructure.
"As today's modern businesses continue to look for ways to differentiate themselves and deliver a seamless experience to their customers, the demand for secure, customizable solutions that support multiple cloud platforms is growing," said Bruno Kurtic, founding VP of product and strategy, Sumo Logic. "The Sumo Logic platform is purpose-built to provide flexible and scalable enterprise-class support for all major cloud platforms — including AWS, Azure and GCP — to detect, troubleshoot and help rapidly investigate operational and security incidents to give users real-time actionable intelligence."
As part of the GCP integrations, Sumo Logic will provide real-time collection and analytics of machine data. The TensorFlow integrations will provide machine learning analytics and new ways to apply advanced machine learning to data from modern apps, the company explained.
GCP apps include support for:
Google App Engine
Google BigQuery
Google Cloud Audit
Google Cloud Fundations
Google Cloud Identity and Access Management
Google Cloud Load Balancing
Google Cloud SQL
Google Cloud Storage
Google Compute Engine
Google Kubernetes Engine
Google Virtual Private Cloud
"The Sumo Logic platform integrates directly with GCP services to collect audit and operational data in real-time and provides operational and security monitoring tools used by a variety of enterprise customers," said Vineet Bhan, head of security partnerships, Google Cloud. "We look forward to continued collaboration with Sumo Logic."
In addition, Sumo Logic said the expanded support will help users improve their ability to monitor, detect and alert on operational issues as well as improve troubleshooting, root cause analysis, and compliance.
The new integrations with Google's open-source TensorFlow libraries will provide the ability to deploy custom machine learning algorithms directly to data to gain deeper insights and make better decisions based on user behavior.
"Now more than ever, customers are demanding flexible and scalable solutions that support their unique business, security and operational needs that span across multiple cloud platforms. When an organization invests in a machine data and security analytics platform, they shouldn't have to be worry about where their modern applications and data reside, they should be able to gain continuous intelligence regardless of their cloud environment(s)," Google's cloud team wrote in a post.