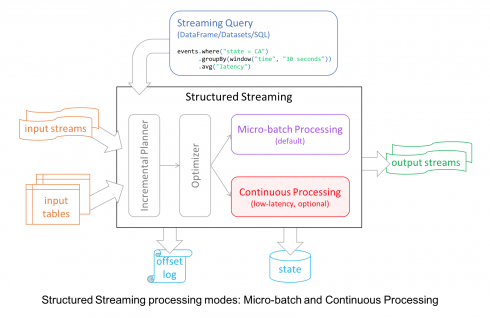 Databricks has announced the release of Apache Spark 2.3.0 as part of the Databricks Runtime 4.0 beta. According to the company, this release focuses on usability, stability and refinement.
A major milestone of the release is that it introduces Structured Streaming. According to the team, this enables low-latency continuous processing and stream-to-stream joins. Other features of the release includes improved performance with pandas UDFs on PySpark and the ability to run on Kubernetes clusters that provide native support for Apache stark applications.
In addition, the release extends new functionality to SparkR, Python, MLlib and Graphx.
Google announces Hangouts Chat developer platform and API
Google has announced its own team communication solution with the introduction of the Hangouts Chat developer platform and API. According to the company, this allows users to create bots that will streamline work. It includes the ability to automate manual teats and gives users a new way to connect with apps. Bot commands can be issued from chat rooms and direct messages. 
"No longer are chat rooms just for conversations," said in a company blog post. "With feature-rich, intelligent bots, users can automate tasks, get critical information or do other heavy-lifting with a simple message. We're excited at the possibilities that await both developers and G Suite users on the new Hangouts Chat platform and API."
Microsoft makes its VC++ packaging tool available on GitHub
Microsoft has announced that Vcpkg will be available on GitHub. According to the company, the tool simplifies acquiring and building open source libraries on Windows. The tool looks to assist C++ developers more in acquiring native libraries. Vcpkg is currently still in a preview state. 
NodeSource announced NCM 1.1 with improved scoring
NodeSource has announced that NCM 1.1 is now available. This release improves certification scoring, package vulnerability scanning, and the whitelisting protocol.
According to the organization, the certification scoring makes it easier for developers to understand which modules are safe or not. There is now real time vulnerability awareness into the flow of development. In addition, the whitelisting protocol now includes more precise whitelisting and targeting specific packages.  
Quick Base announces new enterprise capabilities
Quick Base has announced new product capabilities to help enterprise IT teams accelerate digital transformation. The new capabilities include audit logging, user management console, super user and solution value assessment. In addition, there are new customer success resources, which include best practices training courses and account Admin badge.
"At its core, Quick Base has always been customer-driven and focused on bringing companies the tools needed for success in a constantly evolving IT landscape," said Jay Jamison, SVP of strategy and product management for Quick Base. "As our customer base has evolved to include more large organizations, we are addressing the common challenges they face. We see no-code as the future and are committed to helping all organizations adopt it in a secure fashion to drive business value."