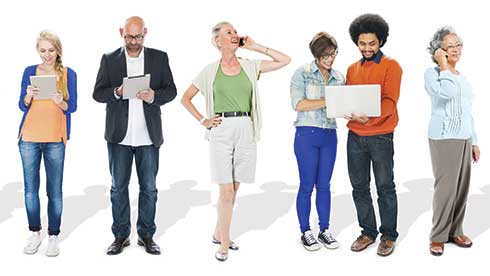 Mobile apps unleash a world of capabilities. Commonly used to bond with family and friends through social media and picture-sharing, as well as to pass time with games, they also provide businesses and organizations the ability to work and collaborate on-the-go with a variety of productivity tools, such as Microsoft Office Mobile. They allow us to receive the latest news and events instantly through alerts, push notifications and so much more. Mobile apps work with us (and for us), designed to support a variety of features that enhance the end-user experience when interacting with a company's or organization's information and services.
Evolving trends, techniques and toolsets continue to refine how best to build mobile apps, be they for businesses or consumers. As with every year, there comes a host of new mobile advancements and best practices for developers—most recently new-wave JavaScript and citizen developers. However, one longstanding mobile battle continues to overshadow all other developments: the debate between native apps and Web apps.
(Related: Where does mobile testing fit in an IoT world?)
Originally, native apps were the only reliable method to develop and deploy a reasonable mobile app. However, a new approach has come into the mix. In 2015, Alex Russell, a Google Engineer, improved upon existing techniques, including the dynamic Web, Responsive Web Design and new features in HTML5. He introduced the mobile development world to a strategy coined "Progressive Web Apps," a series of technologies and techniques to build a Web app that acts much like a native app. A Progressive Web App (PWA) is a Web app with additional characteristics, such as a native-like interface, the ability to build a relationship with the end user over time, and the capacity to function in low- to no-bandwidth situations.
In this article, we will explore the most recent headway in the mobile app realm. We will review native, progressive Web and hybrid solutions to mobile apps and the pros and cons of each. By the end of this article you will walk away with a better understanding of the current state of mobile app development, as well as a plan to help determine which method is best for you and your organization.
Driving factors of a successful mobile app
Deciding whether to pour resources into a native or mobile Web app can be a tough call for many businesses and organizations. However, targeting mobile users opens up a wealth of possibilities, so the decision to invest is very important. Currently there are a variety of factors found in successful mobile apps that contribute to user adoption that all mobile app developers should address.
One of the most important characteristics of a successful mobile app is the user interface design. An ideal UI is one that is clean, intuitive and easy to navigate. Through both functionality and customization you convey the main purpose of the app to your users, in addition to setting the guidelines for how and why they use it.
Functionality includes not only the required features to match the needs of your app, but also fast load times, smooth scrolling and accessibility. If your users run into long, unexplained wait times, or an app has a disjointed or jerky experience, app uninstallation is sure to follow.