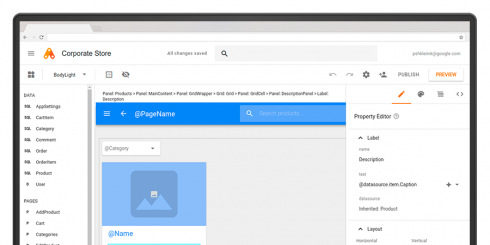 G Suite users can now build custom apps to meet their businesses needs with the availability of App Maker, G Suite's low-code environment. The solution was first announced in November of 2016.
"Analysts estimate that the right custom mobile app can save each employee 7.5 hours per week (that's a week's worth of lunch breaks!). Yet, too few businesses have the means, let alone the resources, to invest time and effort in building custom apps. Why? Because their IT budget centers on big enterprise apps like CRM, ERP and SCM and beyond those priorities, IT executives' attention focuses on security and governance, Geva Rechav, product manager of App Maker, wrote in a post.
App Maker tackles that problem by providing line-of-business teams to build apps for things like requesting purchase orders or filing and resolving help desk tickets.
Since the early adopter program, App Maker has been updated to offer built-in support for Cloud SQL, support for Bring your Own Database model, responsive templates, a drag-and-drop UI design, declarative data modeling, ability to connect with data and services, and visibility over apps running in the organization.
"App Maker makes it easy for your team to iterate from prototype to deployed app. Features like built-in templates, a drag-and-drop UI editor, and point-and-click data modeling accelerate app development. Support for open standards like HTML, CSS, Javascript and Google's material design let your developers quickly create beautiful apps, in an environment that's instantly familiar," the company wrote on its website.