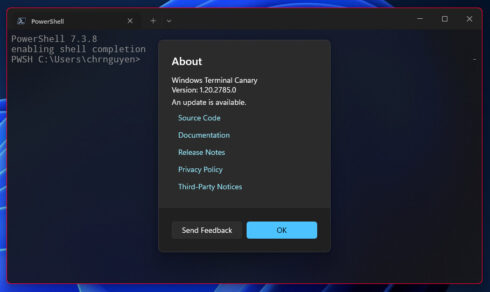 Microsoft is introducing a way for developers to get new features in their Windows Terminal installation before they are released. 
Windows Terminal is on a quarterly release cycle, meaning that an update is published every three months. To get new features faster, you can now install the Windows Terminal Canary channel.
This new channel ships new features nightly and gives you the opportunity to try new features before they make it to the preview version.  
It can be installed in addition to Windows Terminal stable and Windows Terminal Preview. Right now it is available either as an App Installer or Portable ZIP distribution. 
Microsoft does note that this Canary channel is the least stable release channel, which means users may find bugs before Microsoft has a chance to discover and address them. 
"We hope that Windows Terminal Canary can become a place for you to try our new experimental features and provide us feedback as we build them," Christopher Nguyen, product manager II for Windows Terminal at Microsoft, wrote in a blog post.