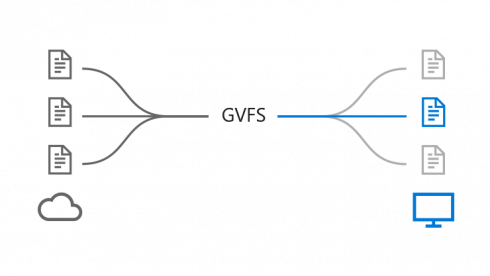 Microsoft has announced progress with the prototype design for Git Virtual File System (GVFS) for Mac. GVFS is the company's project to bring Git to enterprise scale. Microsoft plans to publish all of the code for GVFS for Mac in their public repo.
With GVFS for Windows, it contains patches to Git, a file system filter driver and a user mode process. For the Mac version, the company will have to rewrite the file system and driver model.
"Currently we've just built a prototype version of the kext. We still have a lot of work left to make it full-featured, robust, performant, diagnosable, and production ready. We also plan to do quite a bit of cleanup and refactoring in the GVFS user mode codebase, to allow that same code to run on Mac using .NET Core. As these pieces start to come together over the next few months, we'll get some brave early adopters to start using it and send us feedback," said Seed Noursalehi in a blog post.
Why developers should care about the EU's move to filter uploaded content
According to GitHub, the European Union is considering a proposal that would require code-sharing platforms to be monitored by all user content that is uploaded for potential copyright infringement. This is more aimed at music and video on streaming platforms, but the company says the way it is written may affect coding as well.
GitHub is concerned because it believes this move could make software "less reliable and more expensive," and would like developers to help defend their ability to share code.
"Write to EU policymakers (MEPs, Council Members, or Commissioners) and ask them to exclude 'software repositories' from Article 13," the GitHub team in a blog post. "Please explain how important the ability to freely share code is for software developers and how important open source software is to the software industry and the EU economy."
Google reviews progress made to Android security
Google is highlighting its major moments in Android security with the release of its fourth annual Android security year in review. In May, Google Play Protect was released to protects users from harmful apps and automatically review more than 50 billion apps. New security features in Android Oreo were announced to give users more control over identifiers, hardening and the kernel.  In addition, the company made efforts to prevent PHA downloads, promote collaboration with its rewards programs, and participate in external security competitions.
"We're pleased to see the positive momentum behind Android security, and we'll continue our work to improve our protections this year, and beyond. We will never stop our work to ensure the security of Android users," Dave Kleidermacher, vice president of security for Android, wrote in a blog post.   
Google rebrands Android Wear
Google has rebranded Android Wear to Wear OS by Google, a wearables operating system for everyone. According to the company, over the years the technology and partnerships have evolved, and it thought a new name would better reflect the company's technology, vision and users. 
"Android Wear was founded on the belief that wearable technology should be for everyone, no matter what style you wear on your wrist or what phone you have in your pocket. Since then, we've partnered with top watch and electronics brands to create more than 50 watches to help you manage your fitness, connect with the people who matter most, and show you the information you care about. The best part: We're just scratching the surface of what's possible with wearables and there's even more exciting work ahead," Dennis Troper, director of product management for Wear OS by Google, wrote in a post.