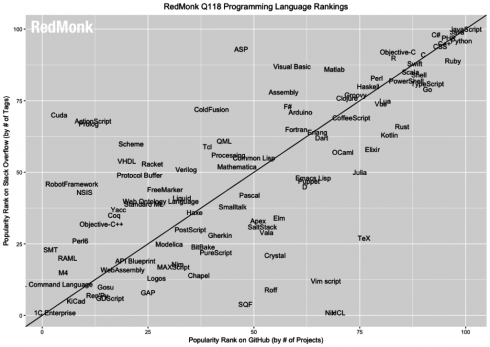 Red Monk has released its Q1 programming language rankings. The top ten programming languages are JavaScript, Java, Python, PHP, C#, C++, CSS, Ruby, C, and Swift.
"The relatively static nature of the top ten languages is interesting, certainly, in a technology landscape that is best characterized not by the high level of change but the increasing pace of same," said Stephen O'Grady in a company article.
According to O'Grady, noteworthy changes include Go's slow decline, Kotlin becoming one of the fastest growing languages, Rust's steady ascent and Scala's decline.
Microsoft announces February update of Visual Studio Code
Visual Studio Code version 1.21 has been released. The key updates include new notifications UI, integrated terminal splitting, markdown preview scrolling, improved large file support and centered editor layout. Full details are available here. 
Other focuses of the release include updates to the workbench, editor, debugging, extensions, authoring and engineering.
Cordova Windows 6.0.0 released
Apache Cordova Windows 6.0 is now available. Cordova is mobile application development framework. Features in this release include Windows 10/UWP builds are now default, ability to build apps with Visual Studios 2017, and new ENV variable that allows configuring the MSBuild Tools to be used to build the app.
"We are happy to announce the release of cordova-windows 6.0.0. This is a major release that changes functionality you might rely on, so please make sure to read the following list of changes," the team wrote in a blog post.
GitLab inbound email issue notification
GitLab has announced a potential risk to the email issue notification. Attacker can abuse this by performing actions that are outside the GitLab domain. All addresses with the GitLab domain will be disabled by April 3, 2018.
"Our users should check to see if they are using the create new issues via email feature," the team wrote in a company blog post. "We will reach out to users directly that are still using the old address to make sure the new addresses are being used instead, by March 20, 2018."