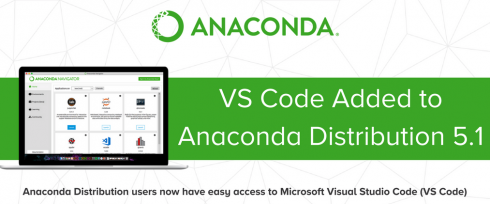 Microsoft has announced that Visual Studio Code will ship as part of the popular Python data science platform Anaconda. Microsoft first announced plans to bring Python to Azure Machine Learning, Visual Studio and SQL Server in September of last year. 
According to Microsoft, "Visual Studio Code can easily be installed at the same time as Anaconda, providing a great editing and debugging experience for Python users, with special features tailor-made for Anaconda users."
Microsoft has previously made investments in the Python community. It has already released a Python extension for VS Code and provides support for Python in Azure Machine Learning, SQL Server, and Azure Notebooks. According to Microsoft, the Microsoft Python Extension for Visual Studio Code is the most downloaded extension in the VS Code marketplace.
In addition, Microsoft created a team to support its Python extension, and will be extending that support for Anaconda environments as well.
According to the Anaconda team, VS Code is a good IDE choice for its users on Windows, macOS and Linux because of its debugging, code completion, and Git integration features. It also offers a number of extensions that developers can tailor to their specific needs.
"Anaconda, Inc. is excited to be able to make installation of Microsoft Visual Studio Code and the Python Extension for Visual Studio Code a more seamless experience for our Anaconda users," Crystal Soja, product manager for the Anaconda Distribution and Anaconda Cloud, wrote in a post.