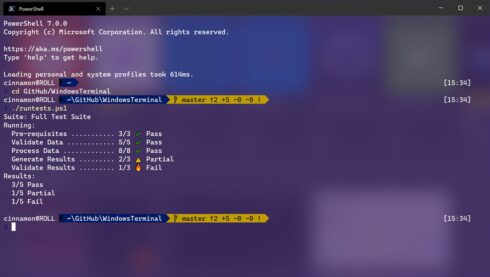 Microsoft is releasing the preview version of Windows Terminal 1.19, and updating the terminal to version 1.18, adding all the features that were initially promised when it was first announced. 
One of the features in Windows Terminal 1.19 is Broadcast Input, which allows developers to broadcast the contents of a terminal pane to all other panes in that tab. 
The team also added the option for developers to highlight a piece of code and then do a web search on it. This can be achieved by highlighting text, right clicking, and selecting "Web Search" from the menu that pops up. It defaults to Bing as the search engine, but this can be changed by editing the settings.json file. 
Windows Terminal 1.19 also adds support for unfocused acrylic, which is a visual setting that can be applied to windows that aren't in focus. 
The developers at Microsoft also added a new UI element called the Suggestions UI, which provides suggestions to the user, ranging from a variety of topics, such as command history and saved commands. The Suggestions UI can use the sendInput action as a source, enabling developers to save their favorite commands so they don't have to type them out every time. 
Another addition in Windows Terminal 1.19 is support for emojis in Command Prompts. 
Microsoft has also made a number of smaller usability improvements, such as displaying an indicator in the tab for closed or crashed applications, a new flag for appending to a command, support for Erase Color Mode, and more. 
More information is available in this blog post here.