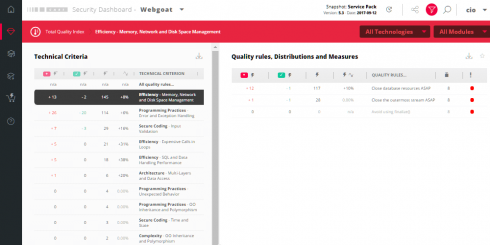 CAST has announced the CAST Security Dashboard, a new solution designed to allow enterprises to improve their understanding and safety of business-critical software.
According to the company, over 90 percent of software outages are caused by architectural design flaws. Despite this, security teams rarely consider software architecture when trying to secure IT systems.
Recent CAST research as also shown that more than 50 percent of developers aren't trained to consider system architecture when developing or modernizing applications. Software architects often are more focused on enabling functionality for end-users and do not consider the ways that the software is vulnerable to attack. CAST Security Dashboard will provide insight into the structure of complex software in order to secure it and reduce risk, the company explained.
The dashboard provides a single view across the entire application, which allows teams to design security upfront and discover software flaws. It also has secure architectural governance of software to ensure maximum uptime, eliminates false positives to allow teams to focus efforts on security vulnerabilities that are contextual and critical, and benchmarks application security over time to ensure continuous improvement throughout release cycles.
"The CAST Security Dashboard provides Software Intelligence that makes it easier than ever for organizations to ensure they are keeping data secure," said Olivier Bonsignour, Head of Product Development at CAST. "Most security analyzers are focused on specific layers of software and don't compute data flow or data access. CAST generates the most accurate security findings by blueprinting architectural dependencies in software to reduce noise and false positives while helping teams prioritize the most important security issues."