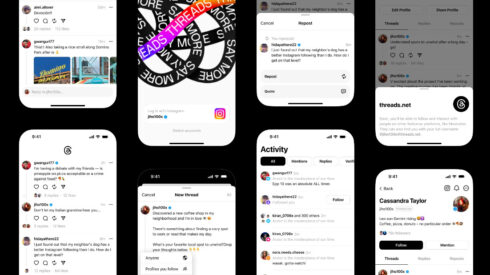 Instagram users can now share text and other forms of content through the company's new app, Threads. 
"Whether you're a creator or a casual poster, Threads offers a new, separate space for real-time updates and public conversations. We are working toward making Threads compatible with the open, interoperable social networks that we believe can shape the future of the internet," Instagram wrote in a blog post announcing the platform. 
Current Instagram users will be prompted to claim their Threads username and download the app when they login to Instagram. Usernames and other verification methods will carry over, and there are also options to import your profile picture, bio, and followed accounts. 
Posts can be up to 500 characters —  220 more than Twitter's current 280 character limit. In addition to text, posts can also include links, photos, and videos under 5 minutes. 
Because of the integration between Threads and Instagram, Threads posts can easily be shared to an Instagram story. Posts can also be shared as a link to other platforms. 
Privacy and safety features include the ability to mute certain words, control over who can mention you or reply to your posts, and the option to unfollow, block, restrict, or report a profile. 
Instagram also plans to make Threads compatible with ActivityPub, which is a social networking protocol backed by W3C. This would make Threads compatible with other platforms that support ActivityPub, such as Mastodon and WordPress.
The company's plan is to use ActivityPub to provide users more control over their content and allow Threads data to be transferred to other services. 
"Our vision is that people using compatible apps will be able to follow and interact with people on Threads without having a Threads account, and vice versa, ushering in a new era of diverse and interconnected networks. If you have a public profile on Threads, this means your posts would be accessible from other apps, allowing you to reach new people with no added effort," Instagram wrote.