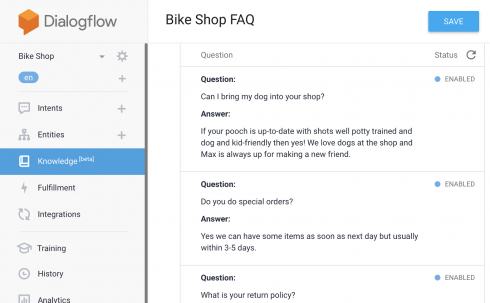 Google announced new beta features to its natural language processing solution Dialogflow. The features are meant to bring new capabilities to customer support and contact centers.
Features include Knowledge Connectors, Automatic Spelling Correction, and Phone Gateway integration. Knowledge Connectors are meant for building conversational actions for things like FAQ and knowledge-based answers, the company explained. It is designed to understand and automatically curate questions and responses based on context. Automatic Spelling Correction corrects spelling and grammar mistakes to improve intent and entity matching. The solution's new Phone Gateway integration implements virtual agents without having to connect multiple services together.
Other features include sentiment analysis, text-to-speech, agent assist, and contact center analytics.
"Dialogflow was created to help developers build interfaces that offer engaging, personal interactions," the company wrote in a post.  "And with a community that's now surpassed more than 600,000 developers, it's become a trusted tool for building natural, cross-platform conversational experiences without needing expertise in natural language processing or AI."
Twitter announces new developer requirements
Twitter is looking to reduce spam, malicious automation and other privacy concerns by updating its developer policy. As part of the update, the company is announcing a new app registration process, new rate limits for POST endpoints, and new ways to report bad apps.
"Today, we're introducing a new way for all developers to request access to Twitter's APIs, along with upcoming changes to increase accountability for apps creating and engaging with content and accounts on Twitter at high volumes," Twitter's Yoel Roth from its API policy team, and Rob Johnson, senior director of product management, wrote in a post. "These changes enable us to have more visibility and control over how developers use our platform and public data from the people using our service, and are intended to help address spam and platform abuse and keep the Twitter service safe and secure for everyone."
BlackBerry launches the Spark Hackathon contest
BlackBerry is introducing a new contest for developers to build mobile, web, and embedded solutions on top of its Spark Communications Platform. The platform is a communications platform-as-a-service solution for embedding chat, voice and video into apps, providing real-time chatbot services and securing data and location sharing.
Developers can compete by including a 1–6 minute video about the project as well as a 200–800 word description about what the project is, why it is innovative and what problem it looks to solve. Developers have until August 14, 2018 at 11:59 PST to submit proposals. More information is available here.
Ada and Zendesk team up on chatbot experiences
AI customer service chatbot provider Ada and customer service and engagement platform provider Zendesk is announcing a new partnership to improve chatbot experiences. The partnership will provide new integrations to give customer and agent experiences new chatbot functionality and live chat services.
"The integration between Ada and Zendesk Chat involves the use of Ada's AI technology to train chatbots to fulfill simple tasks while also identifying when a user needs to be transferred to a live agent," the companies wrote in an announcement. "The bot-to-live-agent handoff occurs when more complex or sensitive issues arise, and the chatbot will direct the user to a customer support representative, providing the agent with the full bot conversation history to ensure a seamless transition. For example, if a customer is seeking to cancel their account, the chatbot will direct them to a live agent to increase the probability of retaining the customer."