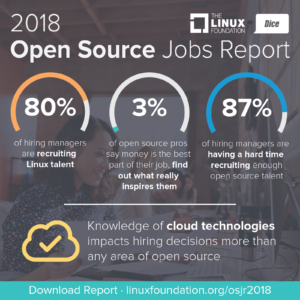 The Linux Foundation in collaboration with Dice.com has revealed the 2018 Open Source Jobs Report. The report is designed to examine trends in open-source careers as well as find out which skills are the most in demand.
Key findings included 83 percent of hiring managers believes hiring open source talet is a priority and Linux is the most in-demand open-source skill. In addition, 57 percent of hiring managers are looking for people with container skills and many organizations are starting to get more involved in open-source in order to attract developers.
"Open source technology talent is in high  demand, as Linux and other open source software dominates software development," said Linux Foundation Executive Director Jim Zemlin. "I am encouraged that that companies are recognizing more and more each day that open source technology is the way to advance their businesses. The Linux Foundation, our members and the open source ecosystem are focused on ensuring training and certification opportunities are highly accessible to everyone who wants to seek them out and we are supporting the developer community and its growth in every possible way."
Google announces Android Studio 3.2 beta
The upcoming release of Google's Android IDE will feature Android JetPack, Android P Developer Preview and the Android App Bundle Format. JetPack and the App Bundle format were first announced at Google I/O. Android JetPack is a set of tools and libraries for building Android apps while the app bundle format is a new publishing format designed to deliver a smaller APK.
Other features expected in the release are improvements to the navigation editor, Android Emulator snapshots, energy profiler and material design updates.
"As the usage of Android Studio has grown in the 3.5 years since version 1.0, we have also become increasingly obsessed with quality. We continue to invest in quality because we know that millions of app developers spend almost everyday in Android Studio and need a reliable set of tools. Stability, build times, and other quality work will be the primary focus for our next release once we finish Android Studio 3.2," Jamal Eason, product manager for Android, wrote in a post.
Rust 1.27 now available
The Rust team has announced version 1.27 of the systems programming language. The release features two big language updates: the basics of SIMB are now available and the #[must_use] attribute can now be used on functions.
In addition, the team announced new library stabilizations and Cargo features. More information is available here.
Dropbox pays out hackers
Dropbox is providing some insight into its public bug bounty program it runs on Hacker. According to the company, in the fall of 2017 Dropbox paid out $38,871 in one day. The average bounty for the program is $512.
In addition, at the H1-3120 event in Amsterdam last month, the company says it received more than 90 reports and paid out $80,383 with an average bounty of $1,318.
"Dropbox is widely known for being one of the most secure file-sharing companies in the world, and readily pays out some of the highest bounties on HackerOne; a testament to their security maturity. To say Dropbox takes security seriously is an understatement. Every vulnerability is treated with the utmost respect and attention, no matter how small. And the hackers at h1-3120 discovered this quickly," the company wrote in a post.