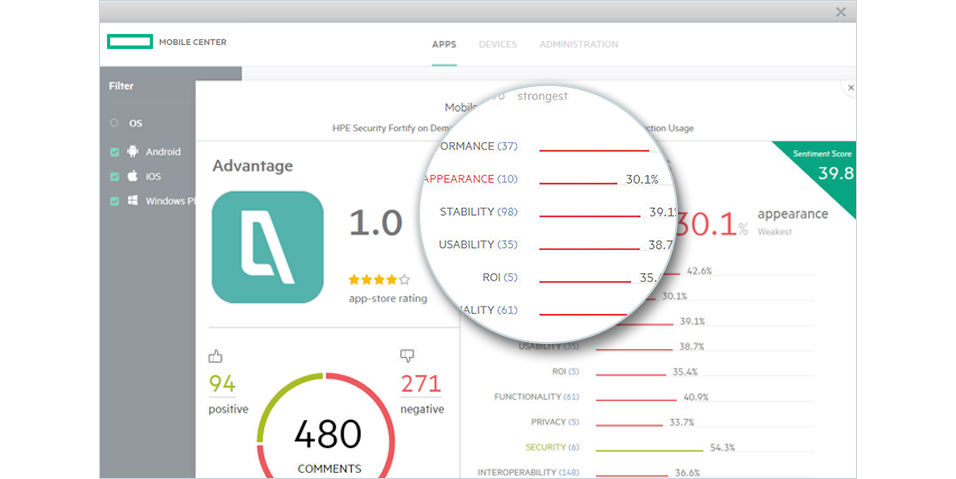 Hewlett Packard Enterprise (HPE) has announced the availability of HPE Mobile Center 2.0. It's an integrated software development testing suite that allows developers and organizations to rapidly test and build mobile applications.
The mobile center is expanding its capabilities to give users the ability to test, monitor and improve their mobile apps. It integrates with HPE Haven OnDemand and HPE Fortify on Demand, which include Appium and Selenium. With these integrations, developers can leverage machine learning from testing data and user feedback.
Developers can also use HPE Mobile Center with open-source tools, which gives organizations the ability to choose what frameworks are best for them. It also gives developers flexibility to build quality applications, according to the company.
The mobile center also acts as a gateway, so customers can have a repository to execute tests and manage their on-premise and AWS-based devices or emulators. It also covers testing capabilities like security, manual, functional and performance.
HPE Mobile Center 2.0 includes a replication of real-user experiences, AWS Device Farm integration, simplified test automation, mobile performance optimization, and end-to-end security for mobile.
Dashlane and Google's open-source API
Dashlane and Google have announced the upcoming launch of a new, open-source API project that aims to protect user security.
This collaboration will allow the companies and other organizations to develop OpenYOLO (You Only Log in Once), which is an open API that will enable app developers to access passwords that will securely log users into Android applications.
"This is an important initiative for our industry and for the state of user security," said Emmanuel Schalit, CEO of Dashlane. "Collectively, we are committed to increasing user security and believe that the best way to do this is to champion open source security projects."
.NET Framework 4.6.2 improvements
Microsoft has announced.NET Framework 4.6.2, with changes based on developer feedback, including improvements with UserVoice and Connect.
The Base Class Library has a few improvements, including the fixed 260-character file name length limitation in the System.IO APIs. According to Microsoft, more than 4,500 individuals voted on this issue on UserVoice. The limitation doesn't usually affect consumer apps, according to Microsoft, but it is common on developer machines that use tools that also run on Unix.
Other improvements were made to enable long paths, and the adoption of Windows path normalization and the "reduction of similar logic in the BCL has resulted in overall performance improvements for logic related to file paths," according to Microsoft.
The release includes other changes to the Common Language Runtime, ClickOne, ASP.NET, SQL, Windows Presentation Foundation and Windows Communication Foundation. Developers can see a full set of changes in the .NET Framework 4.6.2 change list.
New VR headset to enter a new market
According to BetaNews, Xiaomi has announced its Mi VR headset that will use smartphones like Apple's iPhone SE, iPhone 6s, and iPhone 6s+, as well as Samsung's Galaxy S7, Galaxy S7 edge, and Galaxy Note 7.
Right now, the headset is only targeting the Chinese market, so the content will likely be adapted for the company's local market, according to BetaNews. However, it's possible it will be available internationally later on. This VR devices hold the smartphone with a zippered cover, which gives users flexibility when it comes to the size of the device itself.