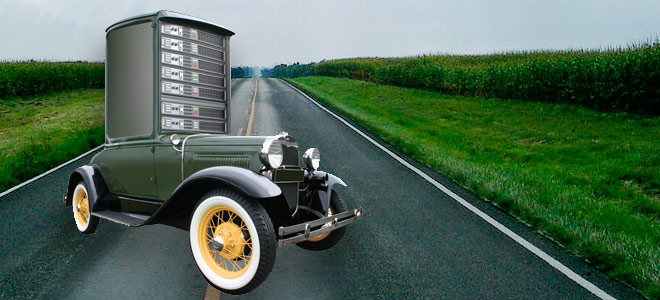 It's easy to look around Silicon Valley and determine that the days of the refrigerator-sized mainframe computers are over. Clouds are big, and OpenStack promises a future where everyone can run their own cloud inside their enterprise.
But the core business applications of yore are still out there, running on giant machines in basements, making it tough to pinpoint the exact moment of obsolescence for these platforms.
"To the contrary," said Derek Britton, director of product marketing at Micro Focus, "in a survey that we released last year, 590 global CIO- or IT director-level executives said, on average, that they expected their organizations to continue to rely on mainframe applications for 10 years. Further, 32% of the respondents believe that they will still be using mainframes beyond 10 years' time."
That is, of course, assuming you can even make the statement that the mainframe is actually obsolete. While it is true that few companies are even considering large single systems as a solution for any modern business problem, there are still plenty of mainline applications in the enterprise software world that run on old-school mainframe hardware.
"Last I knew, IBM was still making a ton of money off of their mainframes," said Paul Green, senior technical consultant at Stratus Technologies. "It is telling that while they have sold off the PC business to Lenovo (first the ThinkPads, and then the x86 servers), they have not sold off the mainframe business."
Green has been in the big computer business since Stratus was founded in 1980, it became a leader in non-stop computing into the 1990s by selling large computers to banks and the Department of Defense. Today, the company still sells servers that run its VOS operating system, but Green admits that this environment survives primarily because it is now POSIX compliant.
Still, those Big Iron servers are being sold to enterprises around the world, and to companies that still develop in languages like COBOL, said Green.
The decline of the mainframe
That's not to say that mainframes are a growth sector. For example, CA in January reported a 4.2% year-over-year Q3 decline in its mainframe business. Certainly, cloud computing has all but eliminated the need for large, powerful, fault-tolerant hardware. But Stratus has kept up with the times by developing everRun, software based on KVM that ties two machines together, effectively making fault-tolerant applications even more so.