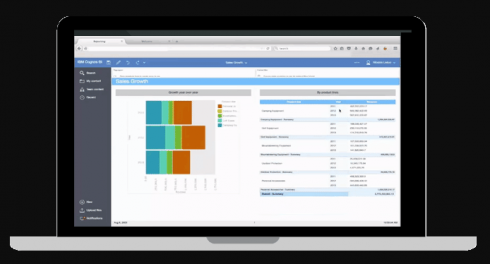 More enterprises are on a quest to use artificial intelligence as a competitive advantage. IBM is on a mission to make this easier and more accessible for any organization via the cloud. The company has announced a new version of its Cognos Analytics solution, which integrates business intelligence and data science technologies into a suite of tools available on IBM Cloud.
The key new features of this release are a new AI Assistant and pattern detection capability. The AI Assistant enables users to make queries and then receive results in natural language. According to IBM, this makes it easier to not only look for answers, but understand where they come in.
Pattern detection identifies and presents critical relationships within data, pointing out patterns that may not have been considered previously. By detecting patterns, the system can eliminate blind spots or guesswork in analysis, the company explained.
"When combined with the foundational governance and trust capabilities built into Cognos Analytics, which provide data policy, relevancy, integrity and security, AI Assistant and pattern detection will give users not only fast access to insights, but added confidence in the results," Greg Adams, vice president of development for business analytics at IBM, wrote in a post.
This version also adds storytelling, which allows users to create interactive narratives by assembling visualizations into a sequence and then enhancing it with media, web pages, images, shapes, and test.
Smart exploration will help users be able to better understand what's behind their results by analyzing it with machine learning and pattern detection. The system will also recommend the most useful visualization of results through a multi-stage recommendation system.
The system assembles new content quickly by re-using relevant components from existing dashboards.
Finally, it has advanced analytics that include predictive analytics, the ability to identify data patterns and variables driving a certain outcome, smart annotation, and natural language generated insights of data.
"Analytics, data science and business intelligence, have become table stakes in the business world," wrote Adams. "They're part of the fundamental building blocks, or rungs in the Ladder to AI, as we talk about. And we've worked hard to make these sophisticated, complicated technologies easy to access, easy to use, and easy to comprehend for just about any – all via the IBM Cloud. We think organizations the world over will see real value in it and begin making even better, more strategic decisions to propel their businesses into the future."