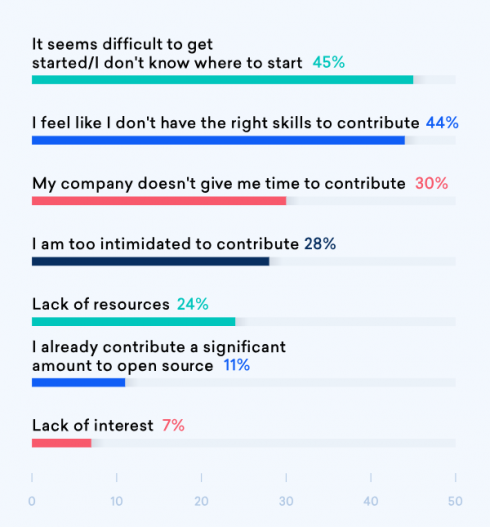 After 20 years, the open-source community is stronger than ever. However, a recent report found developers wish they had more time and know-how to contribute to open-source projects. According the report, respondents don't quite know where to begin and start to question their skills and time.
Additionally, developers say they are either too intimidated to contribute, lack the resources, or do not get enough time to contribute from their company.
DigitalOcean's CURRENTS A Seasonal Report on Developer Trends in the Cloud: Open Source Edition is based off of more than 4,300 international developers, and focuses specifically on how companies are using open source and why they support the community.
The report found 55 percent of developers contribute to open-source software while 75 percent are expecting to use open-source software as part of day-to-day operations.
Developers' reasons for engaging with and contributing to the open-source community were varied. DigitalOcean found 69 percent of respondents said that learning and becoming a better coder was number one. This was followed by being part of a community and keeping abreast of new technologies, among others. The motivators to get a developer to contribute to the open-source community were improving skills, an easier entry point, more time from their company and more resources.
Most of the developers that reported being involved with open source say that they're using JavaScript, which is reflected in the report's finding that the most exciting open-source project among the surveyed was React.js, with Kubernetes not far behind.
The top project for discovering open-source projects to contribute to was by far GitHub with 97 percent of respondents reporting they use it, followed by GitLab, BitBucket and SourceForge.
When looking at open-source software within businesses, the report found only 18 percent of companies are involved in an open-source organization like the Apache Software Foundation, Node.js Foundation, and Cloud Native Computing Foundation. Seventy-five percent of respondents reported that their company donates less than $1,000 annually to open source.
"While more than half of developers are contributing to open source, their companies are not as supportive of the community's organizations," the report started. However, "even though most companies don't invest in open source organizations, they encourage the use of open source within their businesses: nearly three out of every four respondents said their companies expect them to use open source software as part of their day-to-day development work."
Businesses have to consider if the technology is widely adopted, documentation, active maintainers, and if it would be faster than doing it themselves when considering an open-source project, according to the report. Other factors included functionality, security, cost, accessibility and compatibility.
When polled about which major companies respondents think are most supportive of the open-source community, Google garnered 53 percent of the vote, with Microsoft coming in second at 23 percent. Facebook, Amazon and Apple trailed.
"While open source advocates would undoubtedly like to see more developers contributing to the community, the good news is developers as a whole are very bullish: 89 percent said the open source community is healthy and growing," report started.