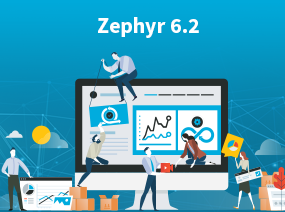 Zephyr version 6.2 has been announced, on the heels of last week's announcement that it would be acquired by SmartBear.  The new release adds new features that will offer DevOps teams scalability, performance, and security, according to the company.
Key features of the release include test case count, execution analysis, plan vs actual test execution capabilities, and  reusable repository of test cases.
"As organizations continue to grow and scale, their test management software needs to evolve accordingly, providing teams with greater efficiency in critical activities of test planning, organization and execution. We are so pleased to be able to roll out these enhancements with Zephyr 6.2," said Zephyr CEO Scott Johnson.
WhiteHat Sentinel Dynamic gets new AI capabilities
WhiteHat Security has announced that new AI capabilities are being added to WhiteHat Sentinel Dynamic, which is a dynamic application security testing solution. Human verification will still be available to customers, but AI-enabled verification will significantly cut down on the time required, down to a few seconds, the company explained.
The new speed offered by WhiteHat Sentinel Dynamic will allow developers to create web applications at the pace demanded these days, according to WhiteHat.
MapR to offer three new courses on Apache Spark v2.1
MapR has announced three new on-demand courses on Apache Spark v2.1. The courses will introduce Java or Scala developers to Apache Spark while teaching them about the full Spark program lifecycle, SparkSession, and how to build and launch standalone Spark applications.
The courses will also prepare developers to take the MapR Certified Spark Developer v2 exam. MapR will be offering a free MCSD v2.1 study guide as well as a discount for the certification exam.
Google to offer staged releases for Android
Google will be introducing staged releases in an effort to help developers release updates without introducing performance issues. By offering a new release to a small set of users, the company says developers will be able to manage some of the risks of new releases. If there does happen to be a bug, only a small amount of people will be affected by it.
Another benefit is that when a bug is discovered, the rollout can be paused, preventing new users from downloading that version.
"Releasing a new version of your app is an exciting moment when your team's hard work finally gets into the hands of your users. However, releasing can also be challenging – you want to keep your existing users happy without introducing performance regressions or bugs," Peter Armitage, software engineer for Google Play, wrote in a post.