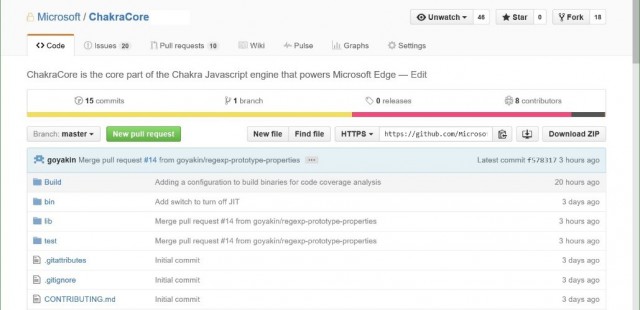 A month after announcing it would do so, Microsoft has released a core component of its JavaScript engine that powers Microsoft Edge and Windows apps written in HTML/CSS/JS into open source.
"Today, we are excited to share with you that we've just made the sources for ChakraCore available under the MIT License at the ChakraCore GitHub repository," wrote Gaurav Seth, principal program manager for Chakra, in a blog post. "Going forward, we'll be developing the key components of Chakra in the open. We believe that developing in the open will allow the team to collaborate even more deeply with more developers around the world, resulting in better products for everyone."
The ChakraCore repository will provide a fully supported and open-source standalone JavaScript engine for developers to embed in projects, innovate with and contribute to, according to the company. Microsoft will be accepting community contributions and input for improving ChakraCore, as well as for any platforms they would like to see it on.
Currently, developers can build ChakraCore on Windows 7 SP1 or newer with Visual Studio 2013 or 2015. Microsoft plans to bring ChakraCore to other platforms, starting with Linux.
The company also posted a road map for ChakraCore that explains how it plans to enhance host and platform support, language innovation and standards, performance, diagnostics and tooling, and engineering.