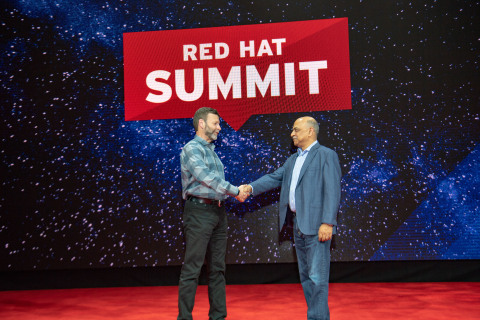 Several new partnerships were announced this week at the annual Red Hat Summit in San Francisco designed to accelerate enterprise adoption of microservices, cloud and containers.   
IBM and Red Hat announced a major expansion to their existing relationship designed to accelerate hybrid cloud adoption. This new partnership that will enable IBM and Red Hat users to benefit from both companies' technologies in the private and public cloud space.
As part of the new agreement, users will be able to easily move to the hybrid cloud with IBM Cloud Private and Red Hat OpenShift, build and deploy containerized apps on a single container platform, and design, modernize and deploy new apps quickly with cloud-based services such as AI, IoT and blockchain with IBM Cloud Private on Red Hat OpenShift Container platform.
"Today's enterprises need a succinct roadmap for digital transformation as well as confidence in deployment consistency across every IT footprint. By extending our long-standing collaboration with IBM, we're bringing together two leading enterprise application platforms in Red Hat OpenShift Container Platform and IBM Cloud Private and adding the power of IBM's software and cloud solutions. Together, we're providing customers with a supported, consistent offering across their computing environments," said Paul Cormier, president, products and technologies at Red Hat.
Microsoft and Red Hat partner on public cloud
Microsoft and Red Hat also announced an expansion of their existing partnership around hybrid cloud, container management and developer productivity. The new partnership will bring the first jointly managed OpenShift offering in the public cloud. According to the companies, this will empower enterprise developers to run container-based apps across Azure and on-premises.
"By extending our partnership with Microsoft, we're able to offer the industry's most comprehensive Kubernetes platform on a leading public cloud, providing the ability for customers to more easily harness innovation across the hybrid cloud without sacrificing production stability," Cormier stated.
Red Hat OpenShift on Azure will also enable developers to move apps between on-premises environments and Azure using OpenShift, connect faster with enhanced security, and access Azure services.
NGINX and Red Hat team up on microservices
NGINX and Red Hat have announced plans to collaborate on the enterprise adoption of microservices. NGINX Application Platform will now be supported on the Red Hat Enterprise Linux and Red Hat OpenShift Container Platform.
"Applications are at the heart of today's adaptive new infrastructure," said Chris Morgan, technical director, OpenShift Ecosystem at Red Hat. "Linux containers and Kubernetes increasingly serve as the basis of these cloud-native apps, and Red Hat provides a comprehensive platform to help enterprises embrace these technologies and drive towards digital transformation. Through our collaboration with NGINX, customers can have even more choice for a simplified, optimized, and modern infrastructure to drive such innovation."
The new collaboration will include new platform interoperability, better optimized technologies and easier customer deployments, according to the company. The NGINX Application Platform includes an integrated load balancer, content cache, API gateway, web application firewall, NGINX Unit, and centralized monitoring, management and analytics.
Beyond partnerships:
TrilioVault Data Protection software version 3 was announced
Trilio is expanding its support to include Red Hat with the latest release of its TrilioVault solution. The latest release will improve the company's backup and recovery capabilities beyond OpenStack and support Red Hat Virtualization, Red Hat's Kernel-based Virtual Machine (KVM)-powered virtualization platform
"Most modern organizations are standardizing on open source, increasingly moving toward KVM-based technologies as part of multiple private clouds, or a combination of private and public clouds," said Murali Balcha, chief technology officer of Trilio. "This release is Trilio's first step to providing data protection for all our customers—regardless of whether they are supporting a private or hybrid infrastructure—as they strive to protect the stateful information stored in their clouds."
In addition, TrilioVault version 3 will include support for S3 storage targets, capture of networks and routers, expanded lifecycle cloud management support and will leverage the Red Hat CloudForms management GUI.
Neha Sandhu was named Red Hat certified professional of the year
Senior support engineer at Spark New Zealand was honored at the summit as the 2018 Red Hat Certified Profressional of the Year. The award goes to the professional who demonstrations hard work and expertise. Sandhu is a Red Hat Certified Systems Administrator as well as a Certified Engineer.
"Neha is the model of what today's — and tomorrow's — IT professional should be: always curious, always learning, always expanding skills and knowledge, always creating value by applying and sharing that knowledge. We are honored to count her among the Red Hat certified and to recognize her as this year's Red Hat Certified Professional of the Year," said Randy Russell, director of certification at Red Hat.
Crunchy Data releases Crunchy PostgreSQL Operator 3
Crunchy Data released the Crunchy PostgreSQL Operator 3.0 with a focus on automating database management operations of PostgreSQL. The release featured enterprise database management capabilities, support for automated failover, advanced backup scheduling, data retention and point-in-time recovery management.
"Through our collaboration with Red Hat, Crunchy Data is able to provide its customers with the freedom of choice for how they deploy open source PostgreSQL, whether their setup is on-premise or in a public cloud. Our team takes great pride in creating open source tools that enables enterprises to more effectively and securely deploy their PostgreSQL clusters in a scalable, modern, cloud-agnostic environment," said Paul Laurence, co-founder and president of Crunchy Data.
Aqua Security announces container runtime security solution for CRI-O
Aqua Security announced the early availability of its runtime security controls for workloadings using the CRI-O runtime engine. CRI-O is an implementation of the Kubernetes CRI and enables OCI compatible runtimes. Features include prevention of unauthorized images from instantiating, zero-configuration protection, auditing of container activities, and firewalling of container level network connections.
"As standards in the cloud-native ecosystem continue to evolve towards simpler common frameworks, organizations must continue to maintain visibility and control over their workloads," said Amir Jerbi, CTO and co-founder of Aqua Security. "We are committed to helping customers secure their applications no matter where and how they are deployed. By extending our support to CRI-O and other emerging standards we are realizing our vision of 'secure once, run anywhere'."