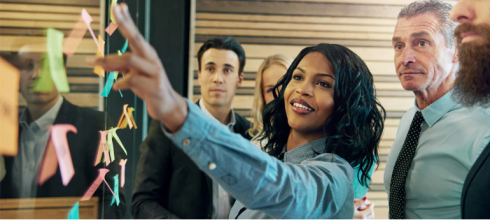 No-code app development solution provider Quick Base announced it was bringing Kanban reports to its platform. Kanban is an Agile approach to organizing, visualizing, updating and acting on work in progress. The newly added reports provide information of work ideas such as status, phase, people and other important attributes.
It is a drag-and-drop tool featuring the ability to track project tasks, opportunities, application features, team members, assignments, marketing assets and IT trouble tickets.
"Many customers use Quick Base to manage projects and all kinds of ongoing day-to-day work in a collaborative manner across enterprise teams," said Jay Jamison, SVP of strategy and product management at Quick Base. "We are dedicated to making Quick Base a stronger destination for automating processes that are underserved in organizations today and Kanban is the latest step in this evolution. It's really the best of both worlds, combining dead-simple productivity with our powerful data management, workflow and reporting capabilities."
Node.js reaches a billion downloads
The application platform Node.js is joining the "three comma club" with 1,024,716,169 downloads as of yesterday. In addition, the platform has more than 52,000 GitHub stars, 23,00 commits, 2,00 contributors and 503 releases.
"In the last few years, we've seen incredible success with Node.js not just within backend development, but with cross-platform and desktop applications. The technology goes beyond simply an application platform but is used for rapid experimentation with corporate data, application modernization, and IoT solutions," the Node.js Foundation wrote in a post.
Foundries.io releases microPlatforms for IoT
Foundries.io emerged from stealth yesterday with a Linux and Zephyr microPlatform designed for embedded, IoT, edge and automotive industries. According to the company, the microPlatforms aim to mitigate and reverse the ongoing IoT fragmentation in the industry. The solution provides over-the-air updatable software platforms, firmware, kernel, services and apps.
"Over the past two years we have used open source software to build a unifying, open, secure, continuously updated product platform for the fragmented IoT and embedded markets," said George Grey, CEO of Foundries.io. "We started Foundries.io to fundamentally change the industry. Today's connected devices require modern software and secure update techniques. Rather than legacy software builds being maintained for product lifetimes that can reach 10 years or more, the microPlatforms are built from the ground up to enable product manufacturers to always and immediately deploy the latest security updates, bug fixes and new features to their customers, ensuring the safety of the Internet of Things and the security of data throughout the network."
Google's game developer experience
Google is updating Google Play Instant to make it easier for developers to build instant games and apps without having to worry about the URL requirement. According to the company, developers previously had to create a web destination for their instant solutions before they were able to publish it. That website had to connect to the solution through intent filters and digital asset links verification. With the company's new update, developers no longer have to provide URL-based intent filters. Users can access solutions through the "Try Now" button within the Play Store and app ads.
"Google Play Instant enables people to experience your game or app natively without having to go through a full installation process. Removing the friction of installing is a great way to increase engagement, conversions, and lifetime value of your users," Google's software engineers Vlad Zavidovych and Artem Yudin wrote in a post.