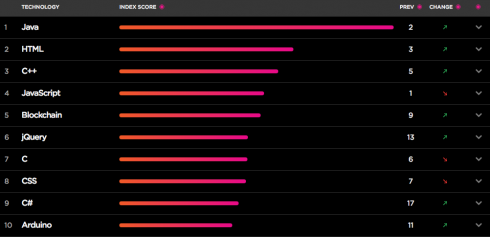 Java is in demand, according to Pluralsight Technology Index. Pluralsight launched the index to rank the demand and growth rate of more than 300 software development languages, tools, and frameworks. This provides CIOs, CTOs, and their teams with insights on technology trends in order to inform their technology strategies and direct their personal skill development priorities.  
According to the company, the index draws from over 8 billion data points across five sources that are selected based on their popularity with the developer audience. Sources include GitHub, Stack Overflow, Google AdWords, YouTube, and Google Search.  
"Business leaders can only drive innovation in their companies if they have a pulse on the most powerful and upcoming languages, tools and frameworks and if they have the right skills on their teams to use them," said Nate Walkingshaw, chief experience officer at Pluralsight. "The Pluralsight Technology Index serves as a comprehensive source for evaluating which technologies and skills CIOs need to invest in."
The top ten in-demand developer languages, tools, and frameworks in order are: Java, HTML, C++, JavaScript, Blockchain, jQuery, C, CSS, C#, and Arduino.
The next 10 in demand are Android Development, Python, Salesforce, PHP, MySQL, Angular, Amazon Web Services (AWS), Spring, SQL, and Node.js.
According to the company, the index will be updated monthly and an expert analysis of the rankings will be published on a quarterly basis.